Do you know someone who is in need of a prayer blanket?
Our parish has recently started a new prayer blanket ministry for those in need of our church family prayers.
Do you know someone suffering from an illness or hardship where we, as a church community, can physically and spiritually cover them in prayer? Please contact Monica Morgan at mlszczer@gmail.com.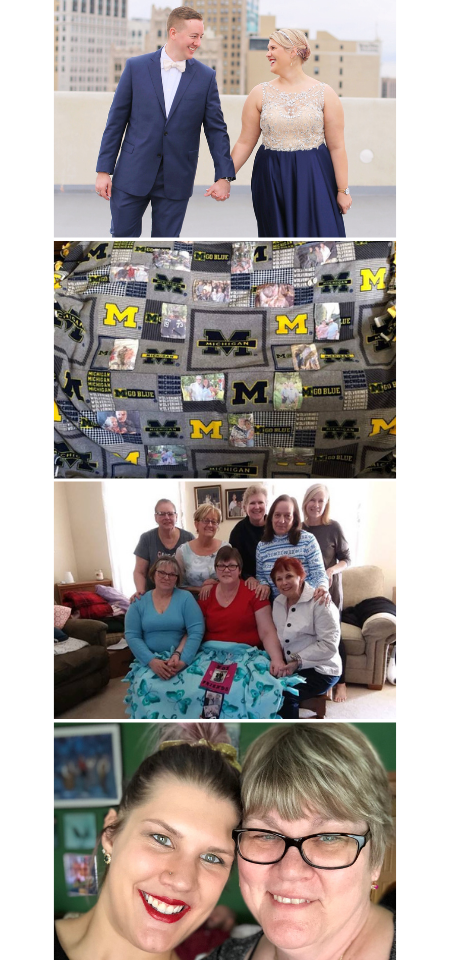 Hello, OMC Family!
My name is Monica Morgan and I am one of the co-chairs of the newest ministry in our parish- The Prayer Blanket Ministry! I wanted to introduce myself so one could see how this ministry originated.
John and I are a Navy family that recently came to San Diego in April 2020. We have been happily married for 2 years this past December and are pet parents to two rescue cats (Jack Sparrow and Tuna Jr.) and a Greater Swiss Mountain Dog (Dr. Indiana Jones). Prayer blankets were first introduced to me in the Fall of 2017 when my amazing mom, Mary Szczerbinski, was diagnosed with BRCA (+), triple negative breast cancer.
My husband and I both hail from opposite sides of Detroit, Michigan; when I was young, my parents moved our family to a (very) Northern suburb. The parish I grew up in was a small, farming community. Think: soybean and corn fields, cows, and walking into the grocery store to be recognized by at least five people that you have to catch up with. I never fully appreciated or believed in how pivotal or supportive a parish community could be until my mom became ill. St. Augustine's Parish rallied around our family and one of the most profound gifts that was given to my mother was her prayer blanket.
The women who made up the bones of the blanket help to raise me in my childhood and actually led my local Girl Scout Troop. Their friendship and relationship to our family was the first layer of comfort in this blanket. Next, the community came forward to pop into an Open House setting and tie knots in my mother's blanket. Each knot held a prayer and a wish for strength, comfort and a reminder that my mother was covered in love by her family and friends during this hardship. This blanket had pictures of my sisters and I, my parents, and our family sewed onto it, along with blessed medallions/crosses, scraps of our Polish dance costume material and several other homemade patches created by family members. It was so beautifully personal and became my mother's safety blanket. She trucked that blanket to chemotherapy and radiation; slept underneath it most of the time; and traveled all over the United States and Canada with it. For my mom's story, it covered her on her hospice bed where she peacefully passed away at home on November 29, 2019.
This blanket has become our family heirloom now. A physical reminder of my mom, her journey and how important having a parish family is. Can I help to provide this profound, physical comfort to you or someone in your family that needs to be covered in prayer and love? Are you interested in being part of this powerful team? Please contact me at mlszczer@gmail.com or call Ian Mascarenhas at 858-453-3554.