This Week in  REACH MORE – CONNECT TO CHRIST
(Looking ahead to the 4th Sunday of Lent)
What does the physical healing of the man born blind symbolize for us with regard to the spiritual life?
Have you ever experienced obstacles in your life that made you spiritually blind?
What helped you see past your spiritual blindness?
What spiritual habits can help you renew your openness to confession and reconciliation – with God – and with others?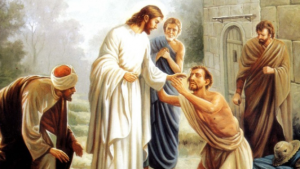 "For judgement I have come into this world, that those who do not see may see, and that those who see may become blind"- John 9; 38
Lord, restore our sight that we may look upon your Son who calls us to repentance and a change of heart.  We pray this through Christ, our Lord. Amen.