How do we forgive the unforgivable?  How do we love the unlovable? Below is our third installment in our OMC Web Stories series. It is a moving and vulnerable piece by our very own parishioner, Mike MacCarthy.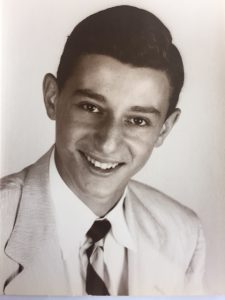 Photo of the author,  Mike MacCarthy, at around 16 years of age.
  Loving the Unlovable,  by Mike MacCarthy
"But I tell you, love your enemies and pray for those who persecute you…If you love those who love you, what reward will you get? Are not even the tax collectors doing that? (Matthew 5: 44 – 46)
Today, when I recite the Our Father, too often I find myself repeating it by rote—especially "Forgive us our trespasses as we forgive those who trespass against us." But I should know better than to ever be insensitive about unconditional forgiveness (aka agape love)—it's played such a major role in my faith journey.
Twice a year the Kairos Prison Ministry holds a 4-day retreat at RJ Donovan State Prison in Otay Mesa, CA.  At those retreats, Kairos introduces prisoners to Jesus Christ—at their request.  Remember, these men are modern society's version of the feared lepers of Christ's time.  They are the feared and abandoned.  They have committed unforgivable acts, including murder, domestic abuse, and horrible misdeeds against children. They are the unlovables, and yet Jesus calls all of us to forgive and love such men. . . to bless them, to do good to them.
In a way, these men are easy to love: they are paying the consequences for their crimes and often are sorry for them. But what are we called to do when an "unlovable" is a part of our daily life?  My father was such a person—a rageaholic, a womanizer, a child beater, and abuser.  I began hating him at age five when he gave my bare behind a beating with the buckle end of his belt because of a lie one of my sisters told. When I finally passed out, I was covered in blood.
As the eldest of 12 siblings, I taught them to stay out of the "monster's" way–we lived in constant fear for our physical safety.  Finally, our mother asked me (at age 16) to tell Father he was no longer welcome in our home.  At first, he threatened to kill me, but then, surprisingly, he simply got back into his car and drove away.  Later, my sisters told me things our father had done to them that they had kept to themselves.
My rage and disgust for Dad remained until my mid-forties when I saw a best-selling poet and author in his 60s admit on PBS that he had had an alcoholic and rageaholic father.  He had quit speaking to him until one day he saw that his dad now spent all of his days sick in bed.  Something drew the poet into his father's bedroom where he found a frail old man barely able to breathe.  It suddenly dawned on the writer that his father was just an old, broken man about to die.  Upon seeing his long-lost son, the old man began to cry, and the poet sat down beside him and wrote a poem of forgiveness.
When I saw that, I too began to cry.  I realized that my father was also an old man who now spent most days in bed.  I needed to forgive him, before he died.  I called and asked him for forgiveness for my anger all these years.  As part of the process of forgiving, I wrote an article about forgiveness which a local magazine published and which I sent to my dad.  Upon reading it, he cried, and died later that same day.  Unconditional forgiveness of the unlovable is a hard pill to swallow, but Jesus calls us to do it anyway. He never said it would be easy.