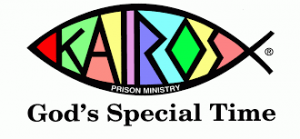 Let's help out our dear friend and fellow parishioner, Mike MacCarthy, with his worthy Kairos prison ministry.
Would your children like to create a placemat letting them know that THEY ARE LOVED, and especially that JESUS LOVES THEM?
Do you have some time this weekend to share some homemade love with the Kairos ministry? Mike MacCarthy is also looking for cookie donations.
Let's show these fellow Christians that they are FORGIVEN by GOD and that they are LOVED.
What a beautiful way to finish of this Lenten Season.
Mike MacCarthy will be collecting homemade cookies, colored placemats, and Agape letters after each Mass on Palm Sunday March 25th to bring into R.J. Donovan State Correctional Facility as part of the upcoming KAIROS PRISON MINISTRY 4-day weekend.
For more information, please contact Mike MacCarthy at 858-715-9831,
or by email at mmwrites@san.rr.com.