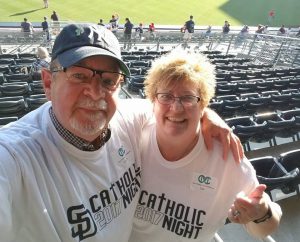 We are sad to announce that Deacon Jim and Lisa will be relocating to North Carolina in October.
We will certainly miss his enthusiasm and energy, especially in the areas of evangelization including Reach More-Connect to Christ and RCIA.
Deacon Jim's last preaching assignment at OMC will be on Saturday, Sept. 16 at the 5:30 PM Mass and Sunday, Sept. 17 at the 7:30, 9:00 and 11 AM Masses. There will be a reception downstairs in Serra Hall immediately following the 11 AM Mass.
Please drop by to wish Deacon Jim and Lisa "God speed!"